Early Fall Harvest- Murcia Style Soup and Fry Bread
We harvested our crop of bush beans during the early days of fall. They were crisp and sweet eaten raw, but I decided to make a soup I haven't had in many years - a Murcian Spanish style soup that is often called by an unfortunate name.
The soup is traditionally made with red wine vinegar; I like to make it with apple cider vinegar and apple brandy. I find that it plays nicely with the other traditional ingredients - almonds, pears, and squash (you can use pumpkin or butternut or other firm fleshed squash of preference.)
The recipe is traditionally made with Pera de Jumilla ( Pyrus communis L., from the Ercolini variety), a Spanish pear that is richly flavored. But if those cannot be procured (and we couldn't procure them), you can substitute Asian pears (Pyrus pyrifolia) or Bosc pears (also Pyrus communis, though from a different region and cultivar than Pera de Jumilla).
The soup is vegetarian and vegan, though it can be made with chicken stock in place of vegetable stock, if you prefer, though it is plenty flavorful and hearty made with a simple vegetable stock.
The fry bread can also be made vegan, if you only use vegetable oil for frying it and no ghee, but it is less flavorful without the ghee. If you want to make vegan fry bread, consider adding some chopped fresh or dried herbs to contribute some flavor other than flour and oil. I often use buttermilk in place of the warm water, as I find it makes a more flavorful fry bread, but for this recipe I just used water as the soup was already so complex in mingled tastes and aromas.
I made generous use of one of the aromatic oils I keep stocked in the kitchen, but you can use olive oil in its place. I've included the recipe below, but it isn't traditional, I just prefer it.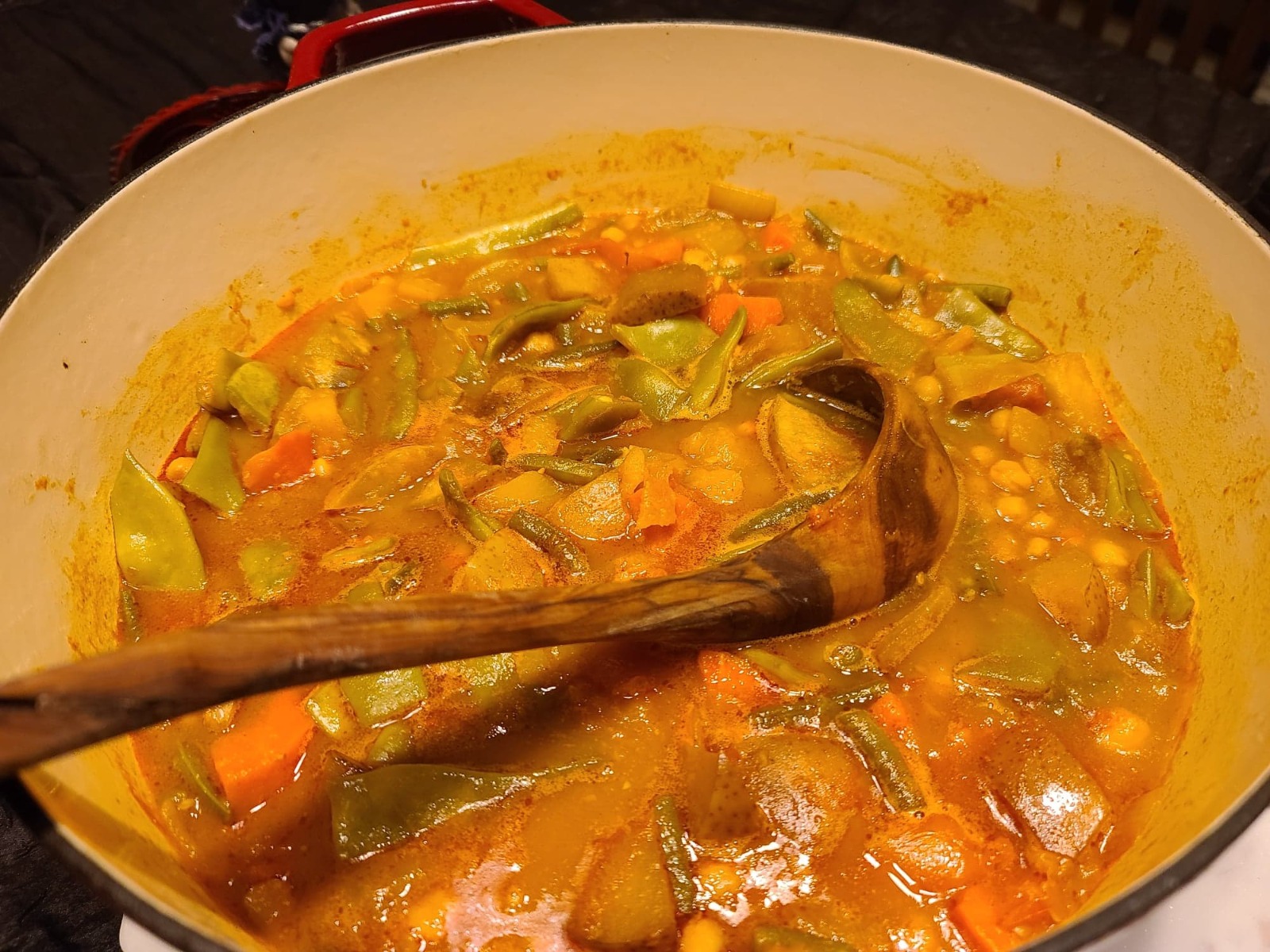 Murcian Style Soup
Green beans, several handfuls, trimmed and cut into 1-inch lengths
Romano flat green beans, several handfuls, trimmed and cut into 1-inch lengths
Vegetable stock, 24 to 32 fluid ounces (we used homemade, but store bought is fine)
Garbanzo beans, 28 ounces, either dried and soaked overnight and parboiled or canned and rinsed
Carrots, 2 to 3, peeled and thickly sliced
Pumpkin or butternut squash, medium size, peeled and cut into 1-inch chunks
Olive oil or aromatic oil
Sweet paprika, two to four tablespoons
Onion, 1 large or 2 small sweet, peeled and chopped to 1-inch chunks
Garlic cloves, half a head, peeled
Blanched almonds, a handful
2 medium ripe tomatoes, cut into 1-inch chunks
2 slightly under ripe pears, peeled, cored and cut into 1-inch chunks
Apple brandy (optional), one quarter cup plus two tablespoons (or substitute apple cider for the one quarter cup and vinegar for the two tablespoons)
Apple cider vinegar or red wine vinegar, two tablespoons
Saffron threads, a generous pinch
Salt and pepper, to taste
Fresh mint, to taste, minced
A large Dutch oven (or use a stock pot and skip the browning of the squash in the oven)
A frying pan, braising pan, or skillet
Prepare the garbanzo beans by placing them in a food safe towel and rolling them around to remove the papery husk. Discard or compost the husks.
Place the prepared squash in the Dutch oven and drizzle with either the aromatic oil or olive oil. Add one to two tablespoons of sweet paprika and toss to thoroughly coat. Place under the broiler in the oven, turn the broiler on, and broil for approximately 3 to 5 minutes, until the sugars caramelize. Add the carrots and stir so the un-caramelized side of the squash is facing up towards the broiler and then broil together 3 to 5 minutes longer.
Remove from the oven, place on the stovetop over medium low heat, add the stock, and simmer for 15 to 20 minutes as you prepare the rest of the ingredients.
Finely mince together the blanched almonds and garlic and combine them with enough aromatic oil (or olive oil) to cover and prevent burning. In the separate frying pan, skillet, or braising pan, pour 2 to 3 tablespoons of oil and heat to shimmering. Add the almonds and garlic and fry until fragrant and golden brown. Remove with a slotted spoon, leaving behind as much of the oil as possible.
Add the chopped onions to the oil that was made fragrant with the almonds and garlic and fry until golden and just softening. Add one to two tablespoons of sweet paprika to the onions and toss to coat. Cook together 1 to 2 minutes until the paprika darkens, then deglaze the pan with a splash of apple brandy (or substitute apple cider). Add the tomatoes and cook together for 5 to 7 minutes.
While the soup and the tomatoes and onions cook, add 2 tablespoons each of apple brandy and apple cider vinegar *or* 4 tablespoons of red wine vinegar to the garlic and almonds and grind together till it becomes a paste similar to a pesto. I did this in a mortar and pestle, but you can use a blender or dedicated spice grinder instead.
Add the tomatoes and onions to the Dutch oven with the squash and carrots. Add the garbanzo beans. Add the pear. Add the green beans. Stir to combine and cook all this together for 3 to 6 minutes, until the last ingredients soften and become flavorful, but do not overcook and become mushy.
Add a generous crumbled sprinkle of saffron and stir to combine. Taste and add salt and pepper to desired levels.
Serve with a spoonful of the almond and garlic paste and a sprinkle of minced mint.
Fry Bread
All-purpose flour, 3 cups, plus more for dusting the work surface, tools, and hands
Baking powder, 1 tablespoon
Salt, 1/2 teaspoon
Warm water or room temperature buttermilk, 1 1/2 cups (either works; buttermilk is more flavorful, but warm water is fine and makes vegan frybread)
Oil (for frying)
Ghee (for frying and for flavor, optional - substitute more vegetable oil in its place if you desire a vegan fry bread)
Place the flour, baking powder, and salt in a large bowl and whisk or stir together to combine the ingredients well.
Add the warm water or room temperature buttermilk and stir with a wooden spoon or hands until the dough just comes together. Do not overwork.
Lightly flour the work surface. Gently tip out the dough and knead until it just forms a sticky, shaggy ball. Do not over knead the dough.
Place the dough in a lightly floured bowl, cover with a towel, and refrigerate it for ½ an hour to 1 hour.
Once the dough has rested, lightly flour the work surface and something to cut the dough with , ideally a bench scraper or very sharp knife. Cut the dough into six same size pieces of dough.
Flour your hands and roll each piece of dough into a ball, then gently pat it out to 1/4-inch thickness. Tear a small hole in the circle of the patted out disk and widen it to a 2 inch diameter circle. This will ensure the dough cooks in the middle while frying and prevent it from puffing up and tenting in the center.
Heat one tablespoon of ghee and two tablespoons of vegetable oil in a cast iron skillet until shimmering.
Place each patted out disk in the hot ghee and oil and fry until puffed up and golden brown, 3 to 4 minutes per side. After one side is done, flip the disk over and cook the opposite side until it is also golden brown and puffed up.
Add more ghee and oil to the pan as needed and keep frying one or two at a time until all the dough is done.
Serve hot.
Aromatic Oil
Garlic, peeled
Chilis, dried or fresh, mild or hot to preference
Turmeric, peeled
Ginger, peeled
Oil, for cooking and to cover
A sterile jar that seals
Mince all of the ingredients. Fry in oil together until fragrant and the garlic and ginger are golden and crisp. Place in the jar and cover entirely with oil. Store somewhere cool and dark and use as desired to enhance the flavor of various recipes and contribute golden color.